Summer is finally here, but the change of seasons brings a new set of challenges for landlords. In general, landlords can expect their tenants to have fewer problems in the summer than in the winter – there are no leaky roofs or heating problems to contend with, for example. That being said, we've noticed that a few problems can crop up when the weather gets warmer. To help you prepare for a successful and happy summer, we've put together our top 5 tips for managing your rental property this summer.
#1. 'Summer-ise' your property
You've heard of 'winter-ising' your home, but did you know that 'summer-ising' is needed too? We recommend that landlords plan for a few hours of maintenance work towards the end of spring. Things to attend to include:
Inspect air conditioning/heat pump units and ductwork, if installed on the property.
Inspect outdoor lighting to ensure the property will remain well lit in the summer.
Test smoke detectors (not summer related, but it's as good a time as ever to check that smoke detectors are working properly).
Handle any seasonal landscaping needs. Repair cracked pathways to prevent your tenants from being injured on an uneven pavement or jagged stone.
#2. Plan for holidays
Summer is the most popular time of year for Kiwis to go on holiday. If you plan to be out of town for an extended period of time, make sure your tenants have a way of contacting you in case of an emergency. It's also a good idea to know if your tenants will be away for a long holiday. Ask your tenants to ensure the house does not look like it's sitting empty, as this is an invitation for a break-in.
#3. Know how to handle noise complaints
The warm weather invites us to linger outdoors longer and leave our windows open, so it's not surprising that noise complaints are a common concern voiced to landlords during the summer. The Residential Tenancies Act 1986 states that tenants are entitled to quiet enjoyment of their property. If your tenant complains about a noisy neighbour, their complaint will need to be directed to their local council's Noise Control service. You can help your tenants resolve noise issues quickly by having the number of your local Noise Control office handy. In Christchurch, Noise Control can be reach on 03 941 8999 or 0800 800 169.
#4. Make sure gardening responsibilities are understood
Tenants are responsible for mowing the lawns and weeding, unless specified otherwise in the tenancy agreement. Landlords are responsible for pruning and maintaining any trees, shrubs or hedges on the property. If you are concerned that your tenant is not keeping up with the yard work, you should check in before problems get out of hand. Likewise, be sure that you plan for annual or bi-annual trimming and pruning of bushes and trees on the property to maintain a tidy appearance.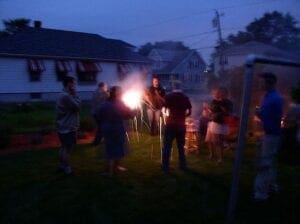 #5. Plan for transition
The summer months are by far the most popular time of year for tenants to move. If you own several rental properties, you should expect some amount of flux during the warmer months. Plan ahead to ensure your property will be ready for new tenants when demand increases. Alternately, engage a property management company like Irelands so you can focus on enjoying your summer holidays.
Now go enjoy your summer!
We hope you have found these tips helpful. By taking some time to plan ahead for summer, you'll be able to enjoy your summer without worrying about your tenanted property. If you need help performing any of the maintenance items listed above, we encourage you to contact us to learn more about how our property management services can benefit you.
Photos
P1010013 by jps246, CC BY-NC-ND 2.0
Backyard Hair Cut by sean hobson, CC BY 2.0