The Christchurch earthquakes resulted in devastating destruction, loss of life and years of disruption. In today's blog, eight years and lots of rebuilding later, we're going to look at how the tragic events have altered pockets of Christchurch real estate for the better.
How can a tragic event improve quality of housing stock?
It can be hard to fathom that anything 'good' could ever come from a natural disaster as destructive as the Christchurch earthquakes of 2010 and 2011 with their magnitude of 7.1 and 6.3, respectively. However, when the dust has settled and the community starts picking up the pieces, hope can be found in the opportunity to rebuild and revitalise a city.
Aside from the well-publicised damage to the centre city, there was widespread damage to around 100,000 residential homes throughout many Christchurch suburbs. This set the scene for an unexpected gentrification of some of these suburbs, as they were rebuilt to an improved standard of housing.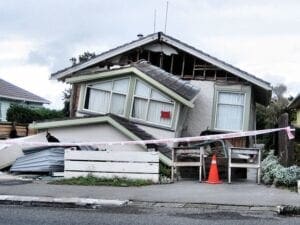 6 Christchurch suburbs to 'benefit' from the Christchurch earthquakes
We've noticed five Christchurch suburbs which are, today, in much better standing than they were prior to the earthquakes. Pre quakes, many homes in these areas were examples of dated weatherboard, stucco or brick properties. They have since been rebuilt to modern building code specifications, reaping the benefits of improved foundations, cladding, insulation, glazing and roofing products.
In addition to these improvements making for healthier and nicer to live in homes, it also means they will better withstand any future shakes.
1. Christchurch Central
Many central Christchurch apartment buildings and townhouse blocks have been repaired or rebuilt alongside new commercial buildings and shopping areas.
2. Linwood
An inner suburb of Christchurch, Linwood is home to an eponymous library and college. Browse rental properties, or homes for sale in Linwood.
3. Edgeware
Edgeware is situated to the north of the central city and boasts its own shopping village. View rental properties in Edgeware, or enquire about purchasing a house in Edgeware.
4. St Albans
Considered one of the larger Christchurch suburbs, St Albans is in close proximity to the Christchurch CBD. Check out our for sale listings in St Albans, or talk to us about finding a rental home in the area.
5. Wainoni
An eastern Christchurch suburb on the up, Wainoni is a great spot for first-home buyers. Equidistant to the CBD and New Brighton beach, this spot is a handy location for renters too.
6. Woolston
Woolston is a few clicks south of Wainoni, and within easy reach of the Christchurch city centre. Those renting or considering homeowning in the eastern suburb can enjoy leisurely strolls or dog walking along the Heathcote River, which runs through it.
A silver lining for Christchurch to be proud of
It appears that if we look hard enough for them, we can find positive outcomes from the post-earthquake rebuild. Christchurch has been gentrified in a dignified manner that its residents can be proud of.
If you'd like to know more about any of the areas we've discussed here, then please drop us a line at our Madras Street offices.
Images: 'Christchurch City' by Geof Wilson via CC BY-SA 2.0.'New Brighton Pier' by Bernard Spragg. NZ via CC0 1.0.'Damaged house following Feb 22 quake' by Martin Luff via CC BY-SA 2.0.